A number of models based on the VN Holden Commodore were developed by HSV, the most potent of which was the Commodore SS Group A SV built for Holden's sporting homologation requirements. It featured an extensively modified version of Holden's 5.0 litre V8 to produce 215kw and 411nm coupled to a six-speed ZF S6-40 manual transmission as used in the Chevrolet Corvette ZR-1 in the USA.
Upgrades were also made to the suspension, tyres and brakes. Although a total production of 500 cars was original planned for racing homologation reasons, only 302 were ultimately produced in non-sequential order meaning that build number 450 may exist while build number 100 may not. The VN Group A SS was the last Holden built as a homologation racing special.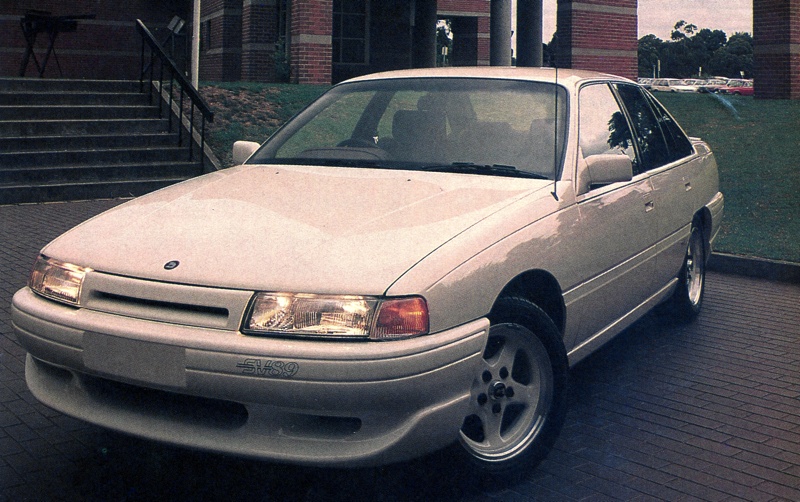 Other models used either 180 kW or 200 kW versions of the same V8 except the SV3800, which had a 132 kW 3.8-litre V6. In 1990, the first HSV Maloo was released, based on the VG series Holden Ute of the time. The lighter Ute body provided a performance edge over the other HSV sedan counterparts. Models based on the long-wheelbase Holden VQ Caprice were released soon after. The SV90 and SV93 were treated with reworked suspension, wider front track and the 180 kW V8. The Statesman 5000i featured 200 kW.
HSV VN Models & Build Numbers
| Year Launched | Model | Number Produced | Extra Details |
| --- | --- | --- | --- |
| 1988 | VN SV3800 | 491 | October 1988 to May 1990 |
| 1989 | VN SV89 | 200 | based on Berlina; March to July 1989 |
| 1989 | VN SV6 | 64 | April 1989 to May 1991 |
| 1989 | VN SVLE | 190 | 110 sedan and 80 wagons VN-series built; August 1989 to September 1989 and to January 1990 |
| 1989 | VN LE | 100 | October 1989 to January 1990 |
| 1989 | VN SV5000 | 359 | 200KW ENGINE - 10 exported to New Zealand; September 1989 to September 1991 |
| 1990 | VN 8 PLUS | 80 | 25 manual and 55 automatic; March 1990 |
| 1990 | VN GTS V6 | 510 | built for New Zealand; in Vivid White or GTS Blue metallic equivalent to Alpine White or Imperial Blue; March 1990 |
| 1990 | VN DMG 90 | 50 | built for the Dealer Motor Group in Queensland; based on Commodore S-pack V6 and SV89 bodykit; April 1990 Brisbane Motorshow |
| 1990 | VN CHALLENGER | 50 | VN-built special for Canberra market; painted in Alpine White; June 1990 to June 1991 |
| 1990 | VN SV-T30 | 30 | built for "Top 30" selling dealers only; based on Commodore SS and SV89 bodykit; June 1990 |
| 1990 | VN CLUBSPORT | 410 | 60 in Asteroid Silver paint; June 1990 to August 1991 |
| 1990 | VQ STATESMAN SV90 | 135 | June 1990 to September 1991 |
| 1990 | VG MALOO | 135 | built; in Maranello Red or Alpine White paint; October 1990 to April 1993 |
| 1990 | VN SS GROUP A SV | 302 | produced for, badged and sold, Holden for racing homologation purposes; all in Durif red paint except 2 in black; November 1990 to March 1991 |
| 1990 | VN PLUS 6 | 100 | 60 automatic; March to August 1991 |
| 1991 | VN SV91 PROTOTYPE | 1 | prototype built in April 1991 |
| 1991 | VQ STATESMAN 5000i | 50 | May 1991 to April 1992 |
| 1991 | VN T30 | 10 | built for "Top" selling dealers only; June to July 1991 |
| 1991 | VN LS | 450 | All V6 sedans except at least one V8 for Australia + 130 sedans and 20 wagons to New Zealand; based on Commodore Executive; July 1991 |