GM 6.2-litre Supercharged V8 LS9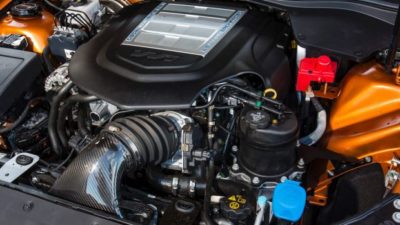 6.2 litre supercharged LS9 Generation IV alloy V8. Generation VI supercharger with twin four-lobe rotors (2.3 litres/revolution). Integrated dual-element air-to-liquid intercooler. Carbon fibre airbox. Direct-mount ignition coils. Centre-feed fuel system. High-flow rotocast cylinder heads. E67 control module. Ceramic coated, stainless steel headers with integrated catalytic converters.
Capacity: (cc) 6162
Compression: (:1) 9.1
Power: 474 kW @ 6500rpm
Torque: 815nm @ 3900rpm
GM 6.2-litre Supercharged V8 LSA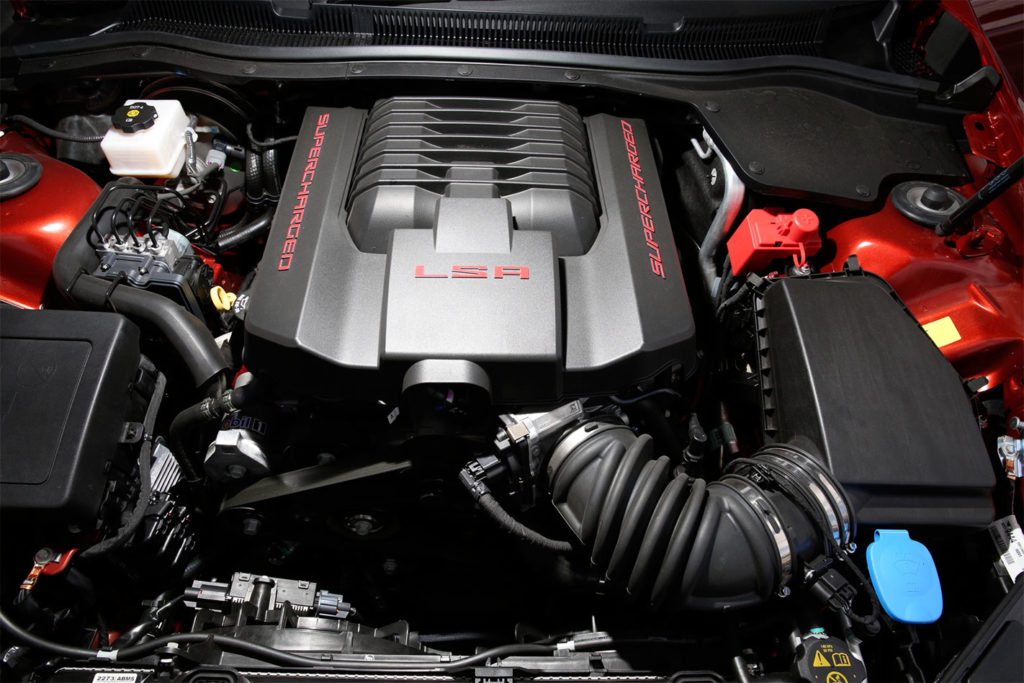 The supercharged 6.2L LSA is similar to the LS9 and debuted in the 2009 CTS-V. The LSA has been SAE certified at 556 bhp (415 kW) at 6100 rpm and 551 lb·ft (747 N·m) at 3800 rpm. GM labels it "the most powerful ever offered in Cadillac's nearly 106-year history". The LSA features a smaller 1.9L capacity supercharger rather than the 2.3 L variant of the LS9.
Other differences include a slightly lower 9.0:1 compression ratio, single unit heat exchanger and cast pistons. A 580 bhp (430 kW) and 556 lb·ft (754 N·m) version of the LSA engine is used in the 2012 Camaro ZL1. On 26 April 2013, Holden Special Vehicles announced that this version of the LSA engine will also be used in the GEN-F GTS.
Power: 430 kW (585 PS; 577 hp) @ 6000rpm.
Torque: 740 N⋅m (550 lb⋅ft) @ 4200rpm.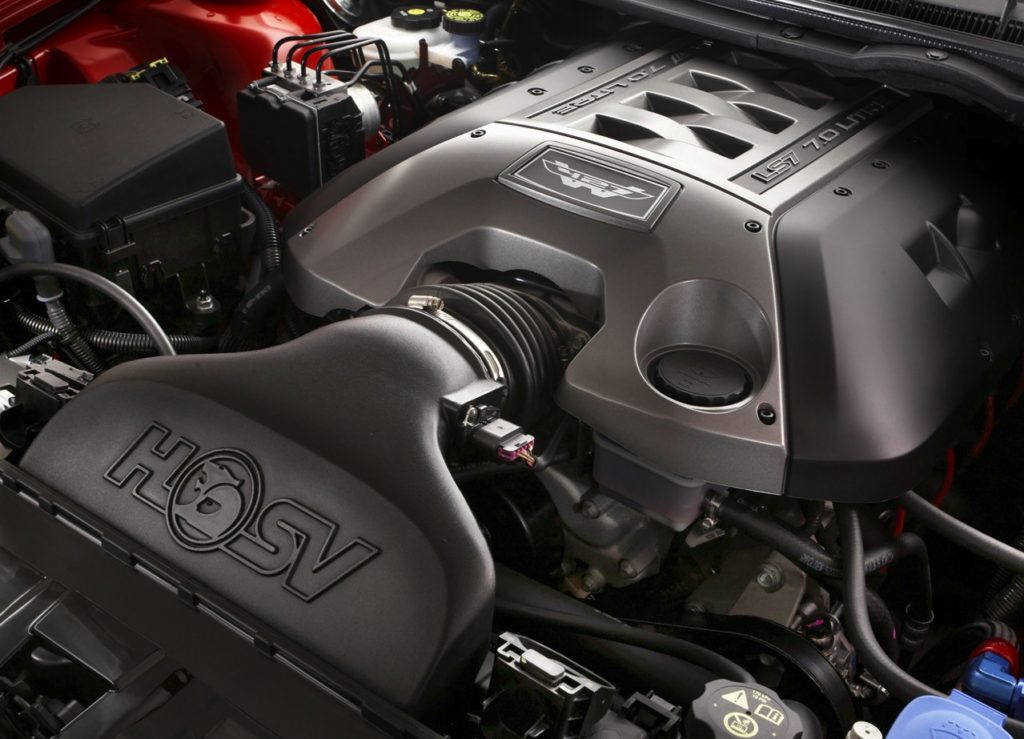 This engine was originally used in the sixth-generation Corvette Z06 that was then shipped over for usage in the W427. It made its first appearance in Australia in 2008. The W427 was designed and built to celebrate the 20th anniversary of HSV.
Power: 375 kW (510 PS; 503 hp) (W427)
Torque: 640 N⋅m (470 lbf⋅ft) (W427)
This engine debuted in the E Series. It is a GM built LS3 V8 customized for HSV's usage. The transition from LS2 to LS3 was primarily to meet impending Euro IV emissions requirements being introduced in Australia on 1 January 2009 and to compete against 2008's 315 kW (428 PS; 422 hp) FPV GT.
Power:
317 kW (431 PS; 425 hp) (E Series)
325 kW (442 PS; 436 hp) (E Series II GTS)
340 kW (462 PS, 456 hp) (GEN-F SV Enhanced models)
Torque:
550 N⋅m (410 lb⋅ft) (E Series)
570 Nm (420 lb ft) (GEN-F SV Enhanced models)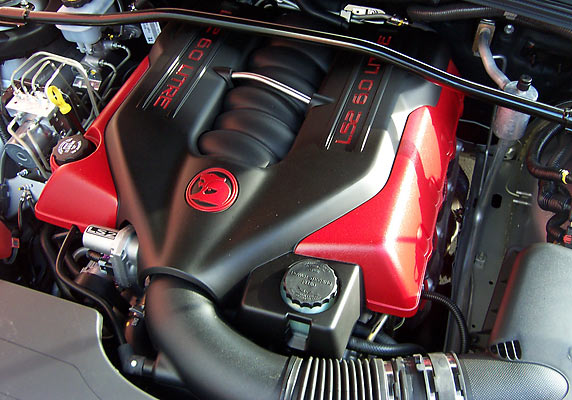 This engine debuted in the Z series. It is a GM built LS2 V8 customized for HSV's usage. One of the main reasons that this engine was used is that the LS1 V8 does not meet ADR 79/01 (Euro III) emissions regulations. This new engine also has connections to the L76 6.0-litre used in the VZ and VE Holden Commodores.
Power:
297 kW (404 PS; 398 hp) @ 6000 rpm(Z series)
307 kW (417 PS; 412 hp) (E Series)
Torque:
530 N⋅m (390 lb⋅ft) @ 4400 rpm (Z series)
550 N⋅m (410 lb⋅ft) (E Series)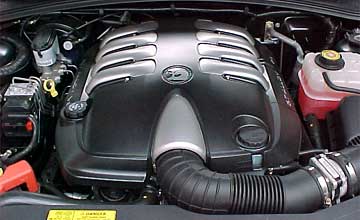 This motor started its debut in the VTII series of HSV sedans. It produced 250 kW (340 PS; 335 hp) of power – 30 kW (41 PS; 40 hp) more than HSV's previous "Stroker" 5.7 V8 used in the VT. It was a slightly de-tuned version, with 7 kW (10 PS; 9 hp) less than when it was in the two-door sports body of the Corvette.
Continuous modifications were made to the LS1 engine throughout its lifetime, reaching 285 kW (387 PS; 382 hp) in the YII series, just 15 kW (20 PS; 20 hp) under the 300 kW (408 PS; 402 hp) GTS.
AWD models such as the Coupé4 retained a similar configuration to other YII series models but were fitted with a more restrictive exhaust system, reducing power to 270 kW (367 PS; 362 hp). The LS1 was phased out for the new 6.0-litre LS2 in the Z Series. However, it was still used in the AWD models of the Z series.
Power:
250 kW (340 PS; 335 hp) (VTII)
255 kW (347 PS; 342 hp) (VX)
260 kW (354 PS; 349 hp) (Y series)
270 kW (367 PS; 362 hp) (AWD models)
285 kW (387 PS; 382 hp) (YII series)
Torque:
473 N⋅m (349 lb⋅ft) (VTII)
475 N⋅m (350 lb⋅ft) (VX)
475 N⋅m (350 lb⋅ft) (Y series)
510 N⋅m (380 lb⋅ft) (YII series)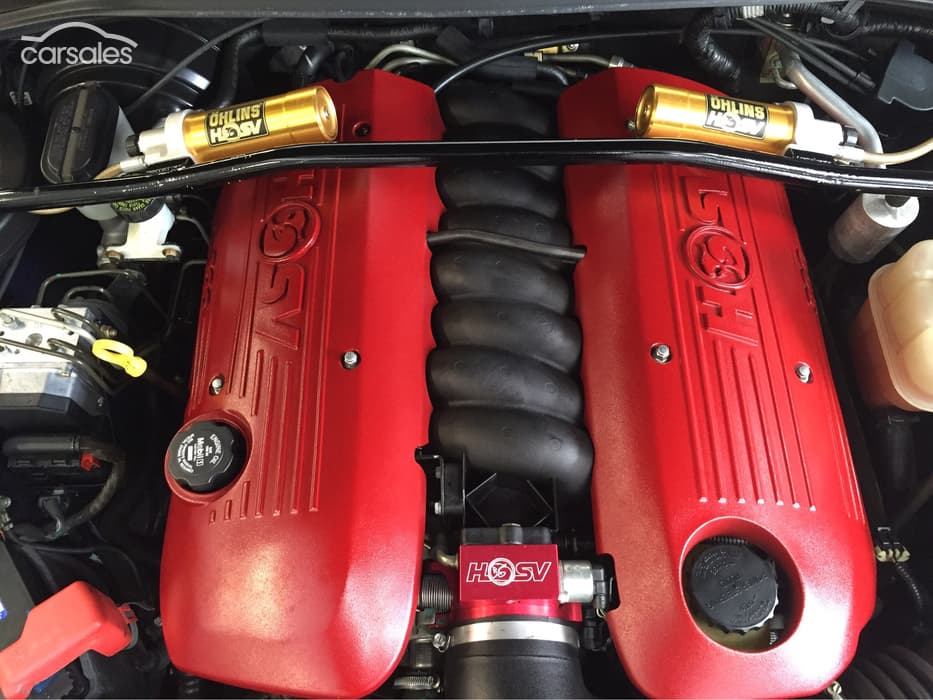 A modified version of the LS1 enhanced by Callaway Cars Incorporated, this engine was used on the VTII, VX and Y series of GTS models as well as the SV300. Differences from the LS1 included ported cylinder heads, larger throttle body, revised camshaft, remapped ECU, titanium valve spring retainers, upgraded valve springs and valves. The compression ratio was also lowered slightly to 9.95:1 and the engine ran MAFless. In HSV models, this engine was used with a higher than standard 3.91:1 final drive ratio.
Displacement: 5670cc – 348cu in
Power: 300 kW (402 hp) @ 6000 rpm
Torque: 510 N·m @ 4800 rpm
HSV 5.7-litre '350ci Harrop Stroker' V8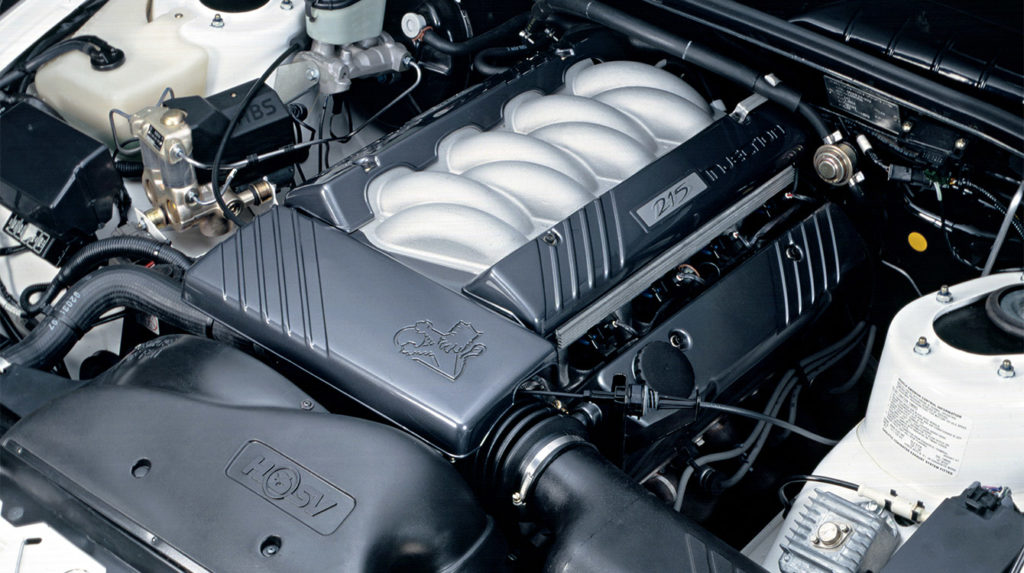 This motor had its debut in the VR series of HSV sedans. It was a bored and stroked version of the Holden 304ci 5.0 litre and was originally available on the VR Senator and GTS 215i.
A Tremec T-56 six-speed manual gearbox option exclusive to this engine was introduced as the then current Borg-Warner T-5 5-speed could not reliably handle the prodigious amounts of torque it produced. The HSV VS GTS-R had the blueprint option to produce more power at around 230 kW (313 PS; 308 hp). The 215i engine was also available on the Grange long-wheelbase model.
The Holden 5.7L was the last version of the locally built Holden 304 EFI engine and uses a Harrop engineered crankshaft, A9L Rods, different pistons, larger injectors, larger throttle body to increase capacity to 5.7L (350cu in).
The LS1 replaced the Holden 5.7L in 1999 with the release of the VT series 2.
Years Produced 1994 – 1999
Engine Holden/Harrop 5.7-Litre. V8 (5737 cc / 350.1 in³)
Valvetrain OHV 2 Valves / Cyl
Bore 101.6 mm / 4.0 in
Stroke 88.4 mm / 3.48 in
Compression 8.55:1
Power 215 – 220 kw / 295.0 bhp @ 4800 rpm
Torque 475 nm / 350.3 ft lbs @ 3600 rpm
This engine for HSV was available in 2 guises. The twin throttle bodied versions designed for racing use were available in the VL and VN Group A cars from 1988 and 1990 respectively. For the majority of HSV sedans using this capacity motor, the engines were modified versions of the standard EFI Holden V8.
Note that there was also a VP equipped Clubsport 5000i that used the remaining 4 bolt main Group A blocks with SV5000 red motor ancillaries. The LS1 replaced it in the VTII series.
Additionally:
A non-EFI version was fitted to the VL Calais SV88, producing 136 kW (182 hp) @ 4400 rpm and 355 N·m @ 3200 rpm.
The VL SS Group A SV Commodore was the first Holden V8 to feature Electronic Fuel Injection.
Displacement:
Power:
VL SS Group A SV 180 kW @ 5200 rpm and 380 Nm  @ 4000 rpm
VL SV88 136 kW @ 4400 rpm and 355 Nm @ 3200 rpm (Carby)
 VN SS Group A SV 215 kW and 411 Nm
VN-VP 200 kW
VN-VP 180 kW @ 4800 rpm and 400 Nm @ 3600 rpm
VR/VS 185 kW and 400 Nm @ 3600 rpm
VT Series 1 195 kW and 430 Nm @ 3600 rpm
HSV 3.8-litre supercharged V6
Available on the VT and VX series HSV XU6. Also only two HSV VX Senators were ever produced with a V6 Supercharged motor. There were several limited VT HSV sedans and wagons with the L67. This engine is a modified version of Holden's supercharged V6 with upgraded air intake and exhaust to boost power from the standard 171 kW (232 PS; 229 hp). Due to the popularity and superior performance of Ford's standard I6 engine, let alone the turbocharged variant, this model was removed from the line-up after the VY series.
Power: 180 kW (245 PS; 241 hp) @ 5000 rpm
Torque: 380 N⋅m (280 lb⋅ft) @ 3200 rpm