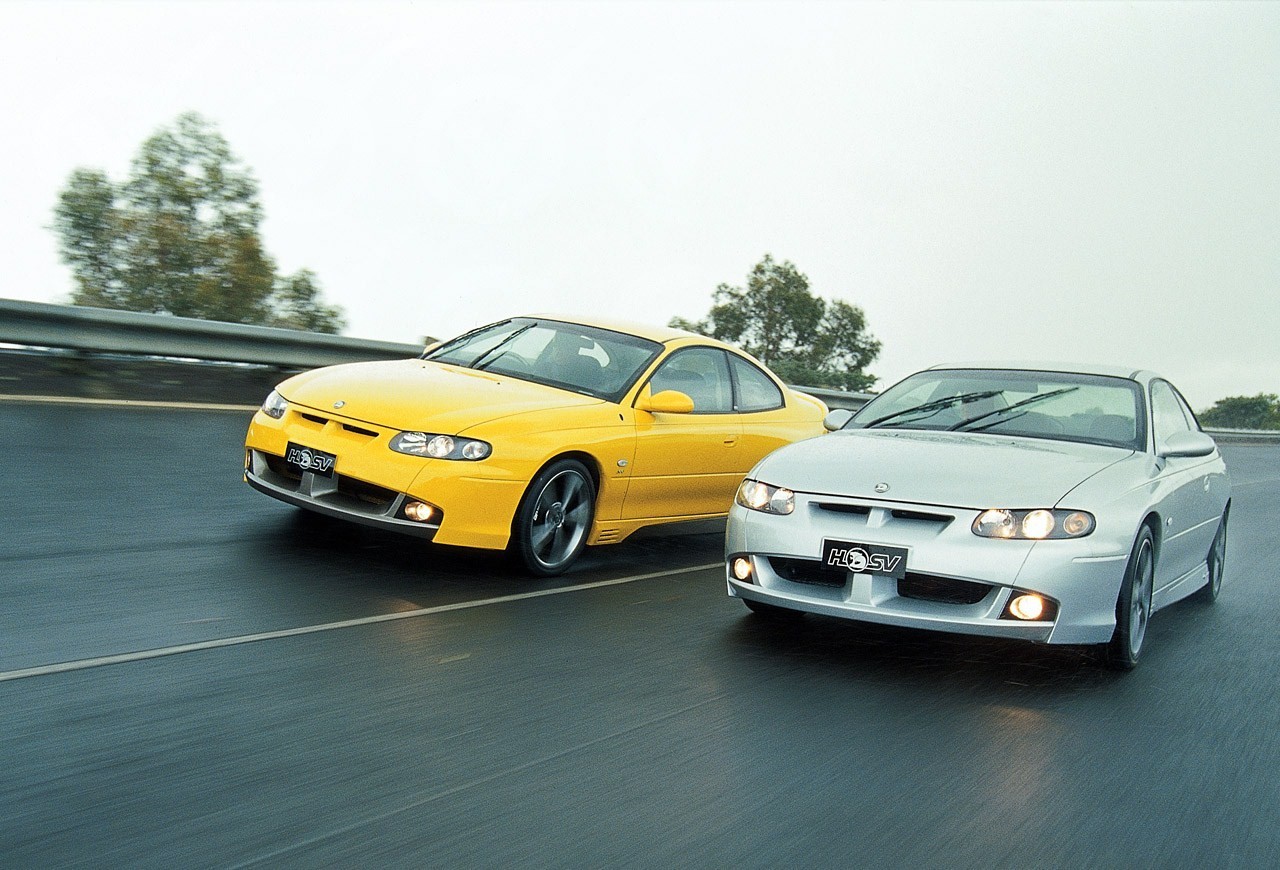 HSV Coupés. The ultimate Grand Turismo Omologatos.
The HSV Coupé is a high performance grand tourer which was produced by Holden Special Vehicles in Australia from 2001 to 2006. It was originally based on the Monaro V2 series however, did not carry the Monaro name.
As in the case of the Commodore-based HSV sedan range, the Coupé's body was built at the Holden manufacturing plant in Elizabeth, South Australia, and then transported and modified at HSV's Clayton production facility.
The initial range consisted of two models, the GTO and GTS, which were differentiated by their engine and exterior design. The entry-level GTO was originally powered by a 255 kW (342 bhp) Chevrolet LS1 V8 engine, whereas the GTS had a 300 kW (402 bhp) featured a Callaway) C4B V8 engine producing 300 kW (402 bhp). Externally, the GTS differed from the GTO in having contrasting colour accents on the bumpers and side skirts
SERIES II/III (V2)
The GTO engine output increased to 260 kW (350 hp) in the Series II upgrade of March 2003, and 285 kW (382 hp) with the Series III upgrade of September 2003. Other additions brought by the latter upgrade included a revised exhaust system and extra cabin instrumentation. Between September 2003 to July 2004, a GTO LE (Limited Edition) was also on sale. With the Series III upgrade, the GTS became a special order only model and was discontinued in 2004.
In May of 2004, HSV launched the new luxury-oriented Coupé4, which was essentially a modified GTO fitted with HSV's first all-wheel-drive system and cost A$89,950. Due to powertrain limitations, it was powered by the older 270 kW LS1 engine and the all-wheel-drive system was developed in-house by HSV rather than being an adaptation of the then existing system used by Holden on its Adventra wagon or Crewman and Cross 8 utility range. Conjecture surrounds the total number of Coupé4s built, claimed to be 134 units (28 Series III models; 106 VZ; 6 pilot cars) of which 20 were exported to New Zealand available only in Phantom Black, Quicksilver and Sting Red.
Z SERIES
The Z Series facelift of October 2004 aligned the GTO's engine output to the other HSV Z Series models. It featured a 297 kW (398 hp) 6.0-litre LS2 engine, a boot-mounted fuel tank, dual exhaust pipes, new bonnet scoops, and revised manual and automatic gearboxes. In line with the announcement made by Holden in July 2005 about the Monaro end of production, HSV again released a GTO LE from April 2006 (featuring three body colour and stripe combinations for just 50 units in black, 25 in yellow and 25 in red) plus a new limited edition, the GTO Signature (with a total production of 70 units), announced in July 2006 and for sale in August 2006. The latter retailed for A$83,990 plus on road costs.
HSV Coupe Models & Build Numbers
| Year Launched | Series | Model | Number Produced | Extra Details |
| --- | --- | --- | --- | --- |
| 2001 | V2 | V2 Coupé GTO | 527 | 533 Auto / 415 Man |
| 2001 | V2 | V2 Coupé GTS | 256 | 93 yellow, 77 black, 22 quicksilver, 16 HSV green, 18 sting red |
| 2003 | V2 | V2II Coupé GTO | 309 | 574 Auto / 525 Man |
| 2003 | V2 | V2II Coupé GTS | 146 | 40 yellow, 52 black, 26 quicksilver, 5 HSV green, 23 sting red |
| 2003 | V2 | V2III Coupé GTO LE | 100 | 100 units based on V2 Series III; in Turbine Grey or Quicksilver paints; launched in September 2003 |
| 2004 | V2 | V2III Coupé GTO | 204 | |
| 2004 | V2 | V2III Coupé GTS | 21 | 3 yellow, 8 black, 6 silver, 3 red, 1 impulse blue |
| 2004 | V2 | Coupé4 | 132 | AWD adaptation of V2 Series III and Z-series; in Sting Red, Phantom Black or Quicksilver; launched in July and October 2004, respectively |
| 2004 | VZ | VZ Coupé GTO | 983 | based on Z-series; launched in October 2004; exported as the Vauxhall Monaro VXR |
| 2005 | VZ | VZ Coupé GTO "Dealer Team Spec" | 50 | a Stage 1 package for the Z-series including upgrade tyre and wheel package, lighter overall weight and, with the optional Stage 2, other upgrades including enhanced driver interface, adjustable suspension and tyre pressure monitors; manual only; July 2005 |
| 2006 | VZ | VZ Coupé GTO LE | 50 | Z-series; 50 units in black, 25 in yellow and 25 in red built; April 2006 |
| 2006 | VZ | VZ Coupé GTO Signature | 70 | 70 Z-series built, all in Sting Red paint; August 2006 |