The HSV Z Series range was launched in October 2004 and featured the new, 297kW LS2 V8 engine in all models. The AWD models retained the less powerful LS1. The lack of a GTS model in this series was attributable to the negligible power difference between the new LS2 models and a potential 300kw GTS, sparking rumors that the new LS7 V8 was going to be used in the next series. In lieu of the GTS, HSV released the SV6000, which was based on the Clubsport and limited to 50 units. A new WL Statesman/Caprice model also resulted in an upgraded Grange.
The Z-series was the first range with which HSV reached the Middle East with the one-make racing ClubSport R sedans, and it was the last series to be based on the 1997–2006 VT Commodore, which adopted the V-body.
The Z series Maloo R8 which was crowned the "World's Fastest Ute", clocking an average speed of 271.44 km/h (168.7 mph) in the Federal Government's Woomera Prohibited Area in outback South Australia.
The speed improved over the previous record held by a Dodge Ram SRT-10 at 248.784 km/h (154.587 mph) but as many found out after the record was set, that the R8 wasn't actually 'stock' as it included a race cold air induction system and other performance modifications which allowed it to reach 271 km/h. The stock VZ Maloo R8 top speed is actually 249 km/h and it was awarded the "Fastest 'medium' size pickup" and thus the world record doesn't comply anymore because of modifications and different pickup size.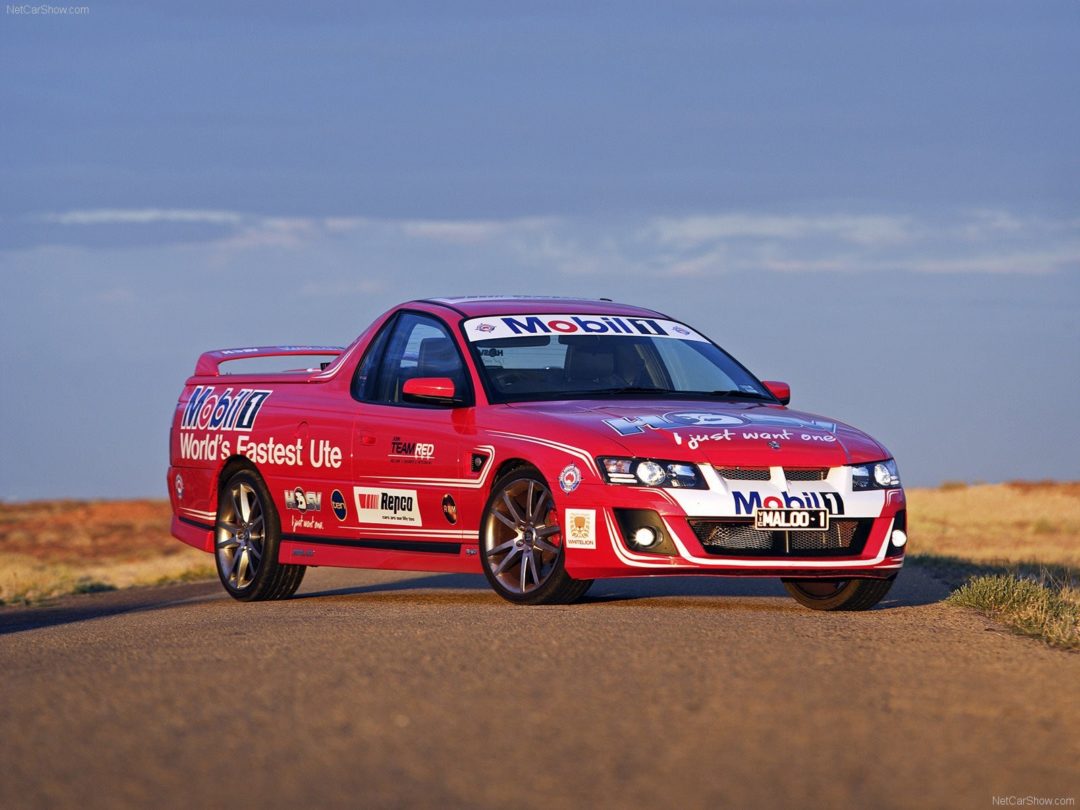 HSV Z Series Models & Build Numbers
| Year Launched | Model | Number Produced | Extra Details |
| --- | --- | --- | --- |
| 2004 | VZ Clubsport | 1414 | |
| 2004 | VZ Clubsport R8 | | Z-series; launched in October 2004 |
| 2004 | WL Grange | | WL-series; launched in October 2004 |
| 2004 | VZ Maloo | | Z-series; launched in October 2004 |
| 2004 | VZ Maloo R8 | *958 | Z-series; launched in October 2004 |
| 2005 | VZ SV6000 | 50 | Planned 50+ Z-series build; All painted in Devil Yellow paint; March 2005 |
| 2005 | VZ Clubsport "Dealer Team Spec" | | a Stage 1 package for the Z-series including upgrade tyre and wheel package, lighter overall weight and, with the optional Stage 2, other upgrades including enhanced driver interface, adjustable suspension and tyre pressure monitors; manual only; July 2005 |
| 2005 | VZ Clubsport R8 "Dealer Team Spec" | 50 | a Stage 1 package for the Z-series including upgrade tyre and wheel package, lighter overall weight and, with the optional Stage 2, other upgrades including enhanced driver interface, adjustable suspension and tyre pressure monitors; manual only; July 2005 |
| 2005 | VZ Maloo R8 "15th Ann" | | 50 Z-series built; all in Devil Yellow paint to celebrate Maloo anniversary; August 2005 |
| 2006 | VZ Clubsport R | | Z-series for one-make racing series |
| 2006 | VZ Clubsport R8 "Holden Racing Team" | 50 | 50 Z Series MY06 built; in Sting Red paint and white stripes and racing decals; built in January and launched in March 2006 |
| 2006 | VZ Clubsport R8 "Toll Dealer Team" | 50 | 50 Z Series MY06 built; in Phantom Black paint and orange accents; built in January and launched in March 2006 |
| 2006 | VZ Senator Signature "Mark Skaife" | 50 | 50 Z Series MY06 built; automatic only; in Phantom Black paint and chrome shadow wheels; built in January and launched in March 2006 |
| 2006 | VZ Clubsport | 243 | Z Series MY06 and E-series; launched in February 2006 and August 2006, respectively; R8 exported as the Chevrolet Special Vehicles CR8 and Vauxhall VXR8 from E-series |
| 2006 | VZ Clubsport R8 | | Z Series MY06 and E-series; launched in February 2006 and August 2006, respectively; R8 exported as the Chevrolet Special Vehicles CR8 and Vauxhall VXR8 from E-series |
| 2006 | VZ Maloo | | Z Series MY06; launched in July 2006 |
| 2006 | VZ Maloo R8 | *339 | Z Series MY06; launched in July 2006 |
| 2006 | VZ Senator | 471 | |