HSV History (1987 – 2017)
HSV was created in 1987 as a joint venture between Holden and Tom Walkinshaw Racing – an operation owned by Scottish racing car driver and entrepreneur Tom Walkinshaw.
HSV effectively replaced the Holden Dealer Team (HDT) special vehicles operation run by Peter Brock, after Holden severed its ties with HDT in February 1987 following the "Energy Polarizer" and "HDT Director" controversies. With the more recent demise of TWR's global companies, HSV still remains a partnership between Holden and Walkinshaw, the joint ownership company being Premoso Pty Ltd.
The first car produced by HSV was the Holden VL Commodore SS Group A SV in 1988 (based on the VL Commodore and not to be confused with the HDT's similarly named Holden VL Commodore SS Group A).
The VL SS Group A SV had a distinctive body kit with a large rear wing (earning it the nicknames "The Batmobile" and the "Plastic Pig") and was powered by a modified version of the Holden 5.0 litre V8, which had dual throttle body electronic fuel injection and was rated at 245 PS (180 kW) in road car form. It was built as a touring car homologation package for Group A racing and in racing form, managed to win the 1990 Bathurst 1000 race in the hands of Allan Grice and Win Percy for HSV's racing arm, the Holden Racing Team.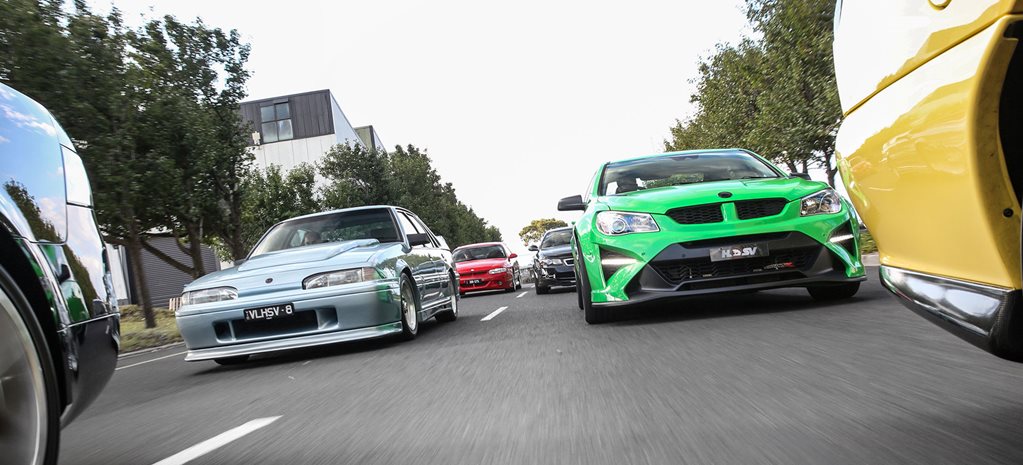 Over the years HSV have built an array of modified vehicles, most of which have been based on the Commodore and powered by either Holden or GM sourced V8s. Notable models produced by Holden Special Vehicles include the Holden VL Commodore SS Group A SV and Holden VN Commodore SS Group A SV (both developed and produced for Holden), and the HSV badged SV 5000, Clubsport, Senator, GTS, GTS-R, XU6 and Grange models.
Since the year 2000, HSV's products have progressively found their way into export markets in limited numbers, most notably to the United Kingdom.
Prior to the introduction of the FPV FG series, the 2006 HSV GTS producing 307 kW (417 PS; 412 hp) from its 6.0-litre GM LS2 V8, and can produce claimed 0–100 km/h (0–62 mph) times of 5.8 seconds, and 13.9 second 1/4 mile (0–400 metre) sprints.
In 2007, HSV celebrated its 20th anniversary with the release of the 20th Anniversary Clubsport R8, limited to a production run of 100 vehicles. This anniversary edition was followed by the HSV move into the Middle Eastern market as Chevrolet Special Vehicles (CSV) with the CSV CR8.