The ClubSport is the entry-level sedan in the Gen-F HSV range. The first release is powered by a 6.2-litre LS3 V8 engine, with power and torque figures of 317 kW and 550 Nm. The ClubSport R8 variant has the more powerful 325kw engine and minor visual changes compared to the standard ClubSport, including SV badges. The Gen-F range featured the ClubSport R8 Tourer as the station wagon version. All ClubSport models feature 20-inch wheels and standard six-speed manual transmission or optional six-speed automatic.
In November 2014, as part of the MY15 update, the power was increased to 325 kW for the base ClubSport and 340 kW for the R8.
In July 2015, HSV launched the limited edition Clubsport R8 25th Anniversary to commemorate the nameplate. It did not benefit from any performance increases but only extra fitments that included forged alloy wheels and special badges and trims. Production totalled 108 units (eight of which for export to New Zealand).
In 2016, the ClubSport R8 model was reintroduced with a downtuned LSA supercharged V8 that features in the GTS, rated at 400 kW.
Quick Details
Years Produced

2013 – 2017

Engine
GM 6.2L LS3
GM 6.2L LSA

Gen-F Clubsport MY14


?

Gen-F Clubsport R8 MY14

1519

Gen-F Clubsport MY15

?

Gen-F Clubsport R8 MY15

589

Gen-F Clubsport R8 25th Ann


108

Gen-F2 Clubsport R8 SV Black

368

Gen-F2 Clubsport R8 LSA

909

Gen-F2 Clubsport R8 Track Edition


156

Gen-F2 Clubsport R8 30th Ann


?
Clubsport
6.2 litre LS3
317kW @ 6000 rpm
550Nm @ 4400 rpm
This engine debuted in the E Series. It is a GM built LS3 V8 customized for HSV's usage. The transition from LS2 to LS3 was primarily to meet impending Euro IV emissions requirements being introduced in Australia on 1 January 2009 and to compete against 2008's 315 kW (428 PS; 422 hp) FPV GT.
Clubsport R8 and Clubsport MY15
6.2 litre LS3
325kW @ 6000 rpm
550Nm @ 4400 rpm
Clubsport R8 MY15
6.2 litre LS3
340kW @ 6000 rpm
570Nm @ 4400 rpm
Clubsport R8 LSA (2016)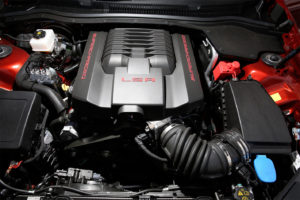 The supercharged 6.2L LSA is similar to the LS9 and debuted in the 2009 CTS-V. The LSA has been SAE certified at 556 bhp (415 kW) at 6100 rpm and 551 lb·ft (747 N·m) at 3800 rpm. GM labels it "the most powerful ever offered in Cadillac's nearly 106-year history". The LSA features a smaller 1.9L capacity supercharger rather than the 2.3 L variant of the LS9.
Other differences include a slightly lower 9.0:1 compression ratio, single unit heat exchanger and cast pistons. A 580 bhp (430 kW) and 556 lb·ft (754 N·m) version of the LSA engine is used in the Gen-F GTS.
Power: 400 kW @ 6000rpm.
Torque:
Clubsport 340kw
| Accel | Time |
| --- | --- |
| 0-100km/h | 4.8 sec |
| 0-400m | 13.1 sec |
Clubsport LSA
| Accel | Time |
| --- | --- |
| 0-100km/h | 4.6 sec |
| 0-400m | 12.7 sec |
*All performance times are to be used as a guide only as many variable factors can change the outcome of each cars perfomance times.
| Quick Details | Number Produced |
| --- | --- |
| Years Produced | 2013 – 2017 |
| Engine | GM 6.2L LS3 / GM 6.2L LSA |
| Gen-F Clubsport MY14 | ? |
| Gen-F Clubsport R8 MY14 | 1519 |
| Gen-F Clubsport MY15 | ? |
| Gen-F Clubsport R8 MY15 | 589 |
| Gen-F Clubsport R8 25th Ann | 108 |
| Gen-F2 Clubsport R8 SV Black | 368 |
| Gen-F2 Clubsport R8 LSA | 909 |
| Gen-F2 Clubsport R8 Track Edition | 156 |
| Gen-F2 Clubsport R8 30th Ann | ? |
HSV Gen-F Clubsport Images